Joined

Mar 9, 2013
Messages

84
Reaction score

2
Hi everybody, subjective question time...
As part of my resto I needed to use a rear chassis/engine bay cut as the original chassis legs were like a rust-pigeon-shit-weld patchwork quilt, and I put a wire brush through the torsion tube. Also the engine bay had been hacked to pieces to fit a T3 'suitcase' engine in.
The donor cut operation was stressful but a success. Now I have my original chassis number stamped section that I saved, and one that came as part of the new donor piece. I have the original chassis plate, M-plate and UK registration documents too. I was originally planning on keeping the 'donor' stamped chassis number and welding my original stamped number in adjacent to it, something like this pic...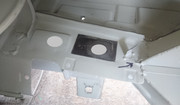 However, a friend has made me aware of problems he had with the DVLA and his T25 - he had owned said vehicle for many years but wasn't the original owner. When electronic MOT's came in some kind of number error got flagged up, either engine no/chassis no/serial no mismatch, I'm not entirely sure. Long story short, the DVLA forced him to take the vehicle to an engineering MOT station, his T25 chassis plate got data scored out of it, the stamped chassis number was removed and a new number was stamped on the chassis as well as the chassis plate and he was given a new registration number. I've seen said vehicle and can confirm this is true. He's still quite sore as he was fond of his old reg number and did all he could to keep it, but wasn't allowed.
With this in mind, I'm now thinking about removing the 'donor' chassis number and just welding my original number back in, though as I don't plan on having a voluntary MOT any time soon (if ever!) I'm not sure why two numbers would ever be a problem.
What would you do? Anybody had any run-ins with this kind of thing before?
Thanks in advance