Joined

Feb 13, 2012
Messages

2
Reaction score

0
Location
Hi all
VP Racing Fuels
are a big deal over in the States - A household name and recognized by many as the world leader in race fuel technology, with a catalogue of nearly 70 fuel blends and a growing roster of VP-fueled champions across the entire spectrum of motorsports.
As you can imagine, once their reputation began to spread internationally, we were pretty keen to get their products on the shelf at
Opies
. We were especially interested in their potent range of fuel additives, designed from the ground up to get the most from your engine.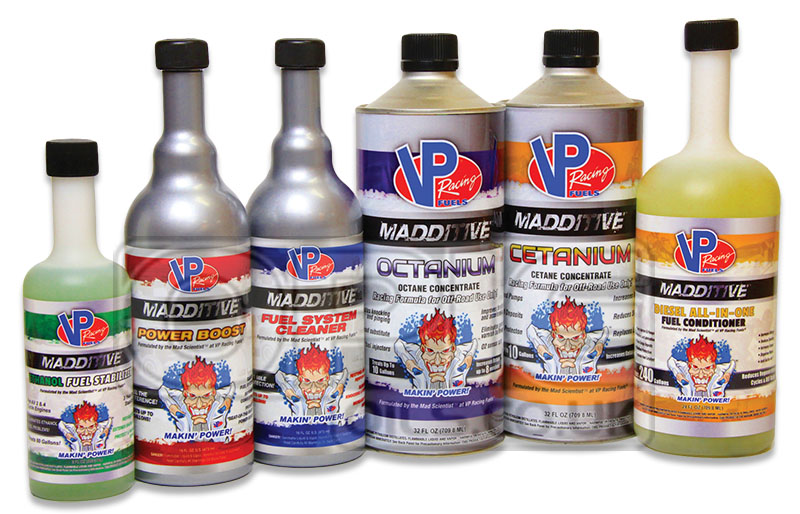 VP Racing Fuels was founded by Steve Burns, who initially exhibited his aptitude for R&D in the early 1970's as a young racer in San Antonio, Texas. Steve was convinced the race fuel manufacturers of the day were falling short in their quest for optimum horsepower. To address this shortcoming, he began experimenting with exotic blends of fuel. Over time, this led to the development of their fuel enhancers and additives, or
"madditives"
as they are better known.
Whether you are after an all-in-one diesel conditioner, octane boost for your race car or even an entire fuel system cleaner that will cover you for 5000 miles, there will be an additive that is designed to exceed your expectations. Have a look through the list below for the new products in this range, simply click on the product of interest for all details. Prices shown include your 10% forum discount code, which can usually be found in the signature.
-
VP Madditive Fuel Stabiliser with Ethanol Shield
: Eliminates the problems caused by ethanol fuel while reducing heat and extending engine life. Fuel Stabilizer with Ethanol Shield protects your engine and prevents repairs. 8 ounces of Fuel Stabilizer with Ethanol Shield will protect up to 80 gallons for 3 years.
8 oz bottle - £9.85
-
VP Madditive Fuel System Cleaner
: Clean your entire fuel system for up to 5000 miles. VP's Fuel System Cleaner increases fuel mileage, restores performance, and virtually eliminates knocks and pings. The advanced formula reduces harmful emissions in all street and off-road uses. 16 ounces treats up to 20 gallons.
16 oz bottle - £10.75
-
VP Madditive Power Boost
: Restore the power your engine once had. Cleans fuel system and removes deposits from the combustion chamber. Power Boost gives you a "seat-of-the-pants" jolt that makes driving fun again, while reducing the need for higher-octane gasoline. 16 ounces treats up to 18 gallons.
16 oz bottle - £9.85
-
VP Madditive Diesel "All In One" Treatment
: Get more out of your diesel engine with Diesel All-In-One Fuel Conditioner. All-In-One Fuel Conditioner cleans injectors and pumps, increases cetane, and replaces lost lubrication. Increase fuel mileage and reduce smoking. Protects petroleum based and biodiesel, disperses water, and shields against gelling to -40°F. 24 ounces treats up to 240 gallons.
24 oz bottle - £17.95
-
VP Madditive Octanium Octane Concentrate
: Octanium is blended for off-road racing applications and increases gasoline octane up to 8 numbers (80 points). Improve throttle response and acceleration, while eliminating knocks and pings. Octanium cleans fuel injectors and increases horsepower, but is for racing use only. Not recommended for use with catalytic converters or o2 sensors. 32 ounces treats up to 10 gallons.
1 quart bottle - £19.75
-
VP Madditive Cetanium Cetane Concentrate
: Increase cetane for off-road racing diesel applications. Cetanium cleans injectors and pumps and will increase your fuel mileage while it replaces lost lubrication. 32 ounces treats up to 10 gallons.
1 quart bottle - £19.75
You can find the full range of Madditives
HERE
, and the entirety of our additives
HERE
.
We're pleased to welcome these to the team, VP's "Madditive" line of performance chemicals for automotive applications is engineered to improve performance as well as save you money at the pump and at the shop. VP's reputation for quality and performance set this line apart from the competition, offering results that simply can't be found elsewhere. We're sure you'll find a product that really enhances your driving experience.
Should you need any advice on the correct product for your particuar application, please feel free to give us a call on
01209 202 944
or drop us an email to
[email protected]
and we will be happy to help. We're here Monday to Friday 8:30 - 5:30.
Until next time!
Oilman